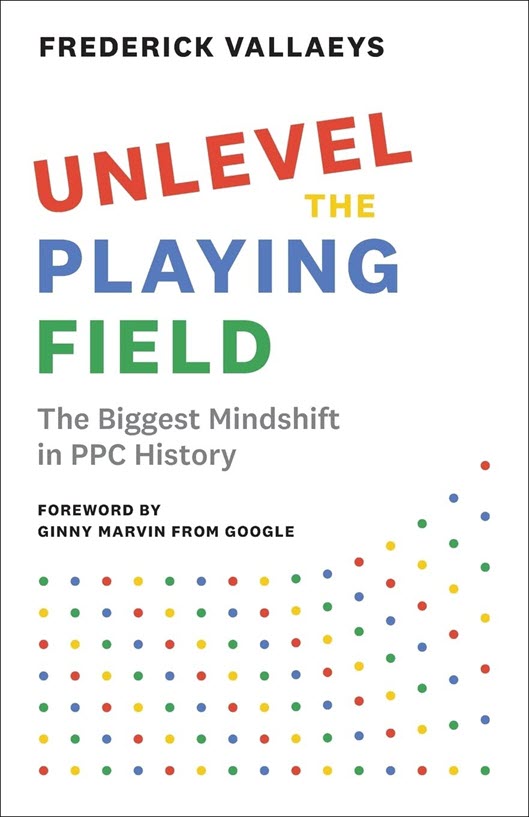 Unlevel the Playing Field: The Biggest Mindshift in PPC History
By Optmyzr CEO, Frederick Vallaeys
Today's digital marketers all compete for attention with the same ad engine automation. In this seemingly level playing field, how do you stand out? How can artificial intelligence help you be better than the rest rather than simply fit in?

Your answers lie in automation layering.

In Unlevel the Playing Field, Frederick Vallaeys reveals how to combine the best of human creativity and machine efficiency to create winning digital marketing programs. This follow-up to Frederick's first book dives into three key areas of search marketing—bidding, targeting, and messaging—to illustrate how automation layering can take your campaigns to the next
level of profitability.

Whether you're an agency or an in-house marketer focused on e-commerce or lead gen, this book shows how to differentiate yourself in the digital marketing crowd with a new path to increased sales, improved returns, and the opportunity to make ad platforms work for you.
"Wow—a no-holds-barred look inside the automation behind PPC marketing! Learn from an industry veteran how to play nice with Google AI for the best results—get this book before your competitors do!"
"Unlevel the Playing Field is a must-read for all in digital marketing (not just PPC). Fred Vallaeys masterfully unpacks the shifts in automation and workflow, as well as prescribing a pragmatic path to victory."
"There are PPC gurus and there is Fred Vallaeys—a veteran who understands the PPC landscape better than anyone. In this remarkable book, Fred reveals what's behind the next titanic shift in PPC automation. But Fred's clarion call isn't just an alarm bell; it's a practical and actionable outline for digital marketers who want to succeed with the world's most popular advertising platform. Fred has been right before, and he's going to be right again."
"The new age of automation has left the PPC industry scratching its head. Why is Google pushing automation? How should we work in tandem with automation? How do we gain a competitive edge? In Unlevel the Playing Field, Vallaeys doesn't just answer these important questions—he will also change your entire perspective on the digital marketing landscape."
"As a seasoned marketer, it is sometimes hard to admit that our roles as digital marketers are always changing. As Fred states in his book, no one likes to not be in control. Fred does an outstanding job outlining what we need to do: shift our mindset and lean into automation. We need to become more strategic marketers, even with less data. I highly recommend this book to new and seasoned marketing professionals."
"As a marketing professional, of late I've been feeling adrift in the increasingly automated world of PPC. Vallaeys's book has given me a lifebelt and much-needed 'mind-shift' change. I urge any PPC professionals/advertisers who are trying to find their place alongside AI to give this a read. You might just find you already have much of the creativity, strategy, and skills needed to succeed."
"There have been (and will continue to be) huge leaps in technological advancements that fuel advanced automation across ad platforms, but human insight and strategy still play a critical role in campaign management. It's not a competition between man and machine, but a collaboration. The best marketers will learn all that they can about automation and how they can use it to support strategic decisions. This book is a great resource in learning how to do just that!"
"There is no one more qualified to write a book on the future of PPC advertising than Frederick Vallaeys. In Unlevel the Playing Field, Fred doesn't just lift the veil on the future of PPC—he gifts his readers with something close to a blueprint for how to survive and thrive in this completely new world of paid advertising. This should be required reading not just for PPC managers and CMOs but business owners and entrepreneurs as well."
"Automotive retail is one of the most competitive environments in North America. Advertising in that sector is even more so. When we began to take our advertising in-house, we knew we would have to automate in order to stay competitive with large established agencies that had represented us for years. Using a Canadian metaphor, we have leveraged Fred's insights on AI to skate where the puck is going to build a custom solution in-house. Following the digital strategies outlined by Fred has given us an edge and allowed our in-house firm to expand beyond our own stores to represent dealerships across Canada—all while keeping our personnel costs in check and our performance above industry averages."
"Fred nails how advertisers can stay ahead of the competition as pay-per-click rapidly evolves. His real-world examples demonstrate how informing AI outflanks both traditional lever-pulling and set it and forget it automation.Most importantly, Fred explains how PPC managers can thrive with the "black box" ad platforms of the future. After reading, most will come away with three or more brilliant Google Ads hacks."
"Unlevel the Playing Field" is a future-forward, comprehensive guide for anyone looking to gain efficiency and profitability through automation."
"Unlevel the Playing Field is specifically for paid search professionals that feel increasingly powerless as the industry becomes ever more automated. Fred Vallaeys' insights not only help marketers find opportunities they didn't know existed but also helps them feel confident in their ability to adapt."
"Fred's ability to take complex technical ideas and distill them into a readable, practical guide is a super power. With Unlevel the Playing Field, Fred has combined anecdotes from his remarkable time at Google (I've known Fred for years and still learn mind-blowing things about his tenure at Google during its early years) with his current work in the world of PPC machine learning to provide an impressive guide for learning all about PPC and automation. Fred expands on his previous book, Digital Marketing in an AI World, specifically in the three roles of the human in automation he defined, and introduces concepts such as automation layering to give the reader a leg up in the competitive world of PPC. Whatever your role in PPC, this book will give you both practical insights as well as philosophical ponderings to improve the way you see PPC in 2022 and beyond."